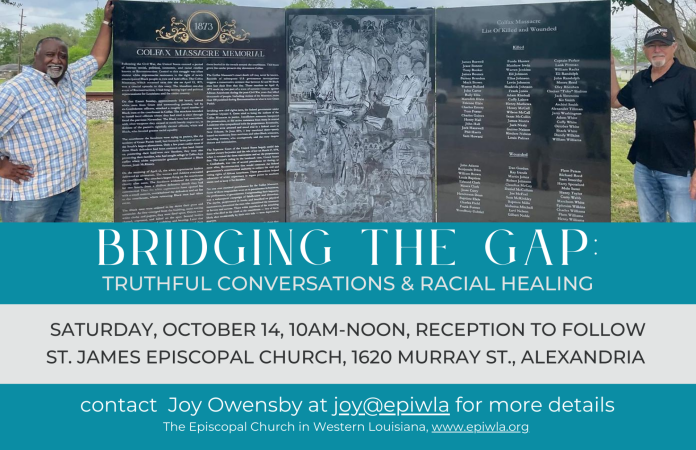 Join us on Saturday, October 14, to hear the remarkable story of the Rev. Avery Hamilton and Mr. Dean Woods, two men from different backgrounds who have come together to honor the legacy of the Colfax Massacre. The massacre, a shocking event in American history that occurred in 1873 in Grant Parish, Louisiana, resulted in the deaths of over 60 Black men who were asserting their constitutional rights. Up until now, it has largely been forgotten in the retelling of our history.
The Rev. Avery Hamilton, a Black man and the great-great-great grandson of Jesse McKinney, the first man killed in the massacre, is the pastor of the First Baptist Church in Colfax. He grew up in Colfax without knowing about his family's past or the events that took place there. Dean, a white man in Houston and the great-grandson of Bedford Woods, a man who participated in the massacre, grew up in Louisiana without knowing about his family's connection to the event.
Avery and Dean's talk will highlight how they have worked together to establish the Colfax Memorial Organization to correct a false historical narrative and offer a place of remembrance and reflection. They will also share their vision to continue to make a difference in their community and the world and provide a model of transformation and healing across racial and historical divides.
All are welcome to participate in this informative and inspirational event! Questions? Contact Joy Owensby.