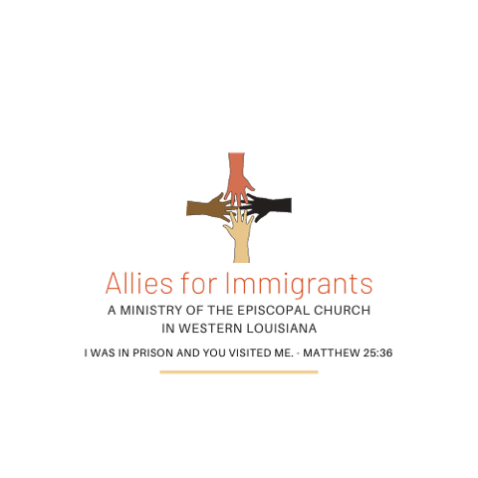 Have you met any of the dozens of Cubans in Basile? How about the Cameroonians in Pine Prairie? Maybe the Venezuelans in Winnfield? The Hondurans in Jena?
You probably haven't. That's because they're all being held behind layer upon layer of cinderblocks, razor wire, and chain-link fencing. They came from around the world to seek asylum in the United States, and now they're locked in more than a dozen detention centers in northern and central Louisiana – all located in the Episcopal Diocese of Western Louisiana.
A glance at detention center statistics reveals that Louisiana is a national leader in numbers of people being detained by the U.S. government. In privately owned and operated detention centers in places like Jonesboro, Monroe, Ferriday, and Olla, these men and women sit and wait for months – or even years – for their cases to be decided in Immigration Court. Some have loved ones who live near enough to visit them, but most don't. Some can hire lawyers to help them explain to an Immigration Judge why they fled their home countries, but most can't. Some will win their cases and leave confinement to start new lives in this country, but most won't.
In fact, just about the only thing that can accurately be said about all of these thousands of men and women is that they need our help simply to endure their long periods of detention. Having arrived at the U.S. border with little more than the clothes on their backs, most cannot afford to buy a book to read or a snack to break the monotony of their institutional meals. Because their access to telephones is limited and exorbitantly expensive, many would love to have a pen pal to converse with. And as weeks turn into months and hope turns into despair, all would benefit from more Bibles to read and – when health restrictions are lifted – more opportunities to talk about God with clergy and lay persons who live just over the fence.
Our diocese recognizes these needs and is called to meet them. We encourage people of good will from parishes up and down the state to do what they can to help. Whether you feel moved to buy a book or contribute to a detainee's commissary fund or pitch in with a ride and a change of clothes for someone lucky enough to win release, we hope you'll join us. Click here to learn how you can get involved.
Our purpose is to discern and respond faithfully as Christians to the needs of immigrants in detention within the boundaries of the Episcopal Diocese of Western Louisiana.